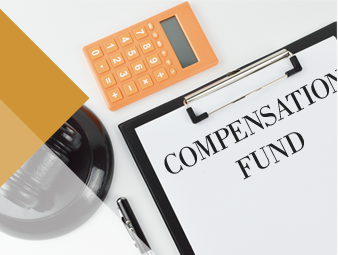 As per the COIDA, an employee is a person who has entered into or works under a contract of service or of apprenticeship or learnership, with an employer, whether the contract is express or implied, oral or in writing, and whether the remuneration is calculated by time or by work done or is in cash or in kind.
This ruling means that all employers of domestic employees are obliged to register as employers with the Compensation Fund and submit the necessary returns. All employers of domestic workers are therefore encouraged to register with the Compensation Fund without delay.
The type of benefits payable to domestic workers for occupational injuries and diseases comprises the same benefits payable to any other type of employee. Benefits paid are based on an approved formula, taking into consideration minimum and maximum compensation outlined in Schedule 4 of the COIDA.
In terms of the Industry Classification of the Compensation Fund's Classification of Industries, the classification model introduced effective since 1 March 2021, domestic employers will fall under their own class, Class M – subclass 2500, at an assessment rate of 1.04 from 2021 and onwards.
Upon registration, employers are required to submit a Return of Earnings to the Compensation Fund, and annually between 1 April and 31 May thereafter.
Earnings declared will be based on the salaries and benefits paid during the period under review. The review period is from 1 March to 28 February of the following year.
An assessment invoice will be issued to the employer once the earnings for the period has been submitted, the assessment invoice will be due and payable within 30 days.
Employers of domestic workers are urged to submit the claims of their employees to the Compensation Fund. Claims backdating to 1994 must be submitted to the Compensation Fund within three years of the date of the amendment. A right to claim in terms of the Act shall lapse if the accident that happened or the disease that commenced on or after 27th April 1994 is not brought to the attention of the Commissioner or of the employer or mutual association concerned, as the case may be, within 3 years from the date of signature on the amendment Act 10 of 2022, 6 April 2023.
Non-compliance with the COIDA constitute an offense in terms of this Act and could lead to fines, imprisonment, or both.
All employers are therefore urged to ensure that they are fully compliant with the aforementioned legislation and are able to provide sufficient confirmation of compliance as and when required to do so.
FHBC offers a variety of services to assist businesses and individuals with registrations with the Compensation Fund. We also assist with Returns of Earnings (ROE) submissions, applications for Letters of Good Standing (LOGS), as well as any other issues or queries relating to the Compensation Fund.
Should you require assistance in any of the abovementioned matters, please feel free to contact us at:
Adv Lorraine Oosthuysen – lorraine@fhbc.co.za
Monique Smit – monique@fhbc.co.za
Source Reference:
https://static.pmg.org.za/48431_17-4_CompensationOccupInjuriesDiseasesAmendAct10of2022_116755.pdf
Warning for anyone employing a domestic worker in South Africa – BusinessTech
https://www.news24.com/fin24/economy/domestic-workers-can-now-claim-for-injuries-dating-back-to-1994-20230815