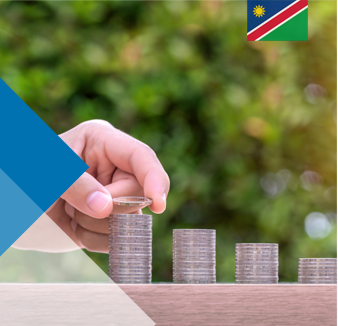 In this article we include two newsworthy incidents that influence individuals. 1) An increase in contributions to Pension or annuities will leave you with more cash in your pocket.  2) Beware, if your account is in arrears, NamRA can authorize Third Party Agents to retrieve the funds.
1) GOOD NEWS FOR ALL INDIVIDUALS THAT CONTRIBUTES TO A PENSION FUND / RETIREMENT ANNUITY.   
For the last two years, the Ministry of finance had a proposal on the table to increase the deductible contributions from N$40,000 per annum to N$150,000 per annum.  This proposal was finally Gazetted on 29 December 2022 and will be effective from 1 March 2022 and state the following "The aggregate of the amounts that may be deducted in terms of section 17 paragraph (n), (q), (qA) and (w) of subsection (1) shall not, as from the year of assessment commencing on or after 1 March [2011] 2022 in any year of assessment exceed the sum of [N$40,000] N$150,000" – please see Government Gazette No 7992
What does this mean for everyone that contributes to a retirement annuity or pension fund?
Let me explain with a simple calculation.
If you earn an annual remuneration of N$750,000 and your annual contribution is N$150,000: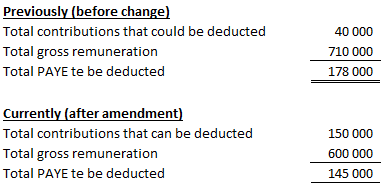 Please note that the effective date is 1 March 2022, accordingly all individuals with contributions needs to contact to their employers / accountants to correctly calculate the effect of the change for tax purposes before the salaries of February 2023 are finalized as it will affect the PAYE deductions for the current 2023 tax year.
2) MEDIA RELEASE – TAX COLLECTIONS VIA THIRD PARTY AGENTS
On 11 January 2023, NamRA released a public notice that they have approved internal standard operation procedures (SOPs) to regulate the actions that can be taken by NamRA when taxpayers fail to pay their tax liabilities.
According to the Tax laws, NamRA is empowered to direct Third-Party Agents who holds money on behalf of the defaulting taxpayer to pay specified amounts to NamRA.  These Third-Party Agents includes, but is not limited to banks, other financial institutions, and employers.
In addition, please note that tax refunds will firstly be set off against the debt.  These SOPs became in effect on 3 January 2023.
NamRA Public Notice – 11 January 2023
Source Reference:
Government Gazette 7992
Public Notice – NAMRA tax collection via third party agents