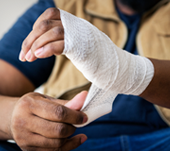 WHAT IS COMPEASY
In October 2019 the Compensation Fund (CF) introduced an online platform that should be used by employers to do an online submission if an employee gets injured on duty. This platform is CompEasy.
CompEasy must be used when employees are injured on duty to report new claims and to follow up on the progress of these claims.
HOW TO REGISTER ON COMPEASY
Employers must register for Department of Labour (DoL) Access before you can register on CompEasy. Please follow this link in order to register on the portal.
Once registered for Access at the DoL, a separate registration using the same ID needs to be completed on CompEasy. Please follow this link for the registration.
Be sure to have the following documents available when registering your company on CompEasy:
CIPC documents
A duly completed nomination form
Certified copy of Director's ID (at least one) not older than 3 months
Certified copy of ID of the user not older than 3 months
Once you have completed the User registration process, and your registration has been assessed and your User access granted, you will receive a notification email from the Compensation Fund, containing your User credentials.
WHY IT'S A GOOD IDEA TO REGISTER ON COMPEASY PRIOR TO ANY INJURIES THAT NEEDS TO BE SUBMITTED
In the unfortunate event that an employee gets injured, your company will already have the login details to ensure the application process can be done as effortlessly as possible. It is important to note that only the users registered on CompEasy for the employer can report new claims and follow up on progress of these claims.
Should there be any complications with the registration of your CompEasy profile, you will be required to send an email to CompEasySupport@labour.gov.za to requests assistance. In the interim, the Compensation Fund requires that you hand deliver all the claim related documents as listed above to your nearest dept of labour office. See list of offices and contact details here.
WHEN MUST A CLAIM BE SUBMITTED?
The employer is mandated to report an injury on duty claim within 7 days of receiving notice or an Occupational disease on duty within 14 days as soon as receiving notice.
FORMS TO KEEP ON FILE IN CASE OF AN INJURY ON DUTY.
The following documents must be sent to the doctor/ hospital with the injured employee:
W.CI.1 Employer's Report of An Occupational Disease OR
W.CI.2 Employers Report of an Accident must be completed
A copy of the employees ID
The doctor/ hospital will complete the following:
W.CI.4 First Medical Report in Respect of an Accident.
HOW TO REGISTER A NEW CLAIM
Once you have successfully registered and are able to login as a User to CompEasy, you will be able to report a new IOD claim online, and no longer have to hand deliver your claims to your nearest dept of labour.
Claims can be registered externally using an application tab once successfully logged in on CompEasy.
As a reference on how to register and submit the claim, the following manuals and videos can be used:
If you have further enquiries, you are welcome to contact Leané de Beer at leane@fhbc.co.za
Source Reference:
https://vch.co.za/ASSETS/important-documents/compensation-fund/Accident%20report%20form%20W.Cl.2%20-%20Employers%20Report%20of%20an%20Accident.pdf
https://www.nioh.ac.za/wp-content/uploads/2020/08/W.Cl_.1E-Employers-Report-of-an-Occupational-Disease.pdf
https://www.labour.gov.za/Contacts/Labour-centres/Pages/default.aspx
https://www.labour.gov.za/DocumentCenter/Publications/Compensation%20for%20Occupational%20Injuries%20and%20Diseases/COIDA_SERVICE_BOOK_VERSION_23.pdf