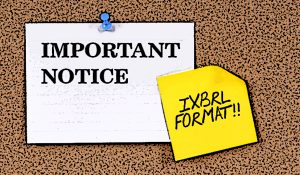 The CIPC has mandated submission of Annual Financial Statements to the CIPC through the Digital Business Reporting technology of XBRL (eXtensible Business Reporting Language), from 01 July 2018.  By adopting XBRL, the CIPC embraces international best practises.
Annual Financial Statements compiled in PDF, Word-, Excel- or HTML formats must be converted to the iXBRL format and relevant information tagged, before it can be lodged with the Annual Return on the website of the CIPC.
The Submission of Annual Financial Statements (AFS) to CIPC is applicable to the following entities:
State Owned Companies
Public Companies
Private Companies with a PI Score above 350, or required by the MOI to be audited
Non-Profit companies with a PI Score above 350, carrying out activities which are in the public interest, or required by the MOI to be audited
Companies holding fiduciary assets of R5 million or more (estate agents' trust accounts for example)
Close Corporations with a PI Score above 350
Any company whose public interest score is at least 100 and compiles its AFS in-house
Companies which are not required by the Act or their MOI to have their Financial Statements audited, must lodge the Financial Accountability Supplement (CoR30.2) with CIPC when Annual Returns are paid and submitted.
Please read:  Notice 42 of 2018
If you have any enquiries, please contact Elsabé le Roux at elsabe@fhbc.co.za