Op Donderdag 10 November het die personeel 'n "Out of the blue" bederfie ontvang, so bietjie bemoediging na die einde van die jaar toe.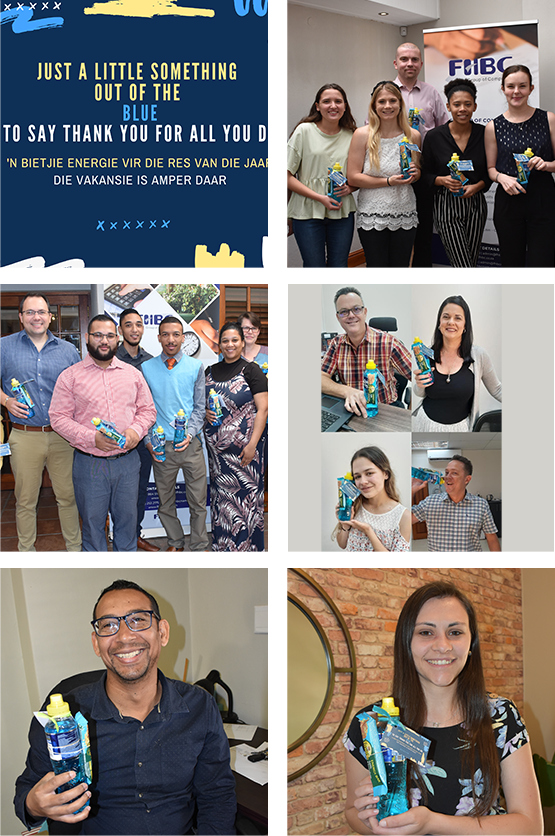 Reynier van Rooyen (Rekenmeester) se doekebraai was Vrydag 18 November.  Reynier en Danielle se eersteling is intussen gebore.  Ons vertrou dat hulle seuntjie baie vreugde tot hulle huis sal toevoeg.
Vrydag 2 Desember het ons Mickayla Tolken (Debiteurebeampte) se kombuistee gehou. Mickayla en Ferdi het 16 Desember getrou. Ons beste wense vergesel hulle vir hulle huwelik.
Op Vrydag 9 Desember het ons 'n formele Jaareindfunksie by MontMartre Chalets & Venue in Franschhoek gehad.  Die venue was pragtig, die kos was heerlik smaaklik en die samesyn was 'n absolute voorreg en lekkerte.  In ons Januarie nuusbrief sal ons van die foto's, geneem deur fotograaf Liezl Matthee, deel.
Woensdag 14 Desember was ons Kerspartytjie.  Ons kon die jaar afsluit met dankbaarheid in ons harte oor wat ons alles in die jaar kon vermag, asook die paaie wat ons saam met elke kliënt en personeellid kon stap.  Ons wens elke kliënt en personeellid 'n vreugdevolle Feisseisoen toe en mag 2023 vir ons voorspoed inhou.  Wees asb. veilig tydens die vakansietyd en mag elkeen uitgerus vir die nuwe jaar terugkeer.