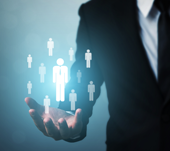 It has often been stated that it is more important to appoint employees who suit the culture of an organization than to employ extraordinary candidates who do not amalgamate with their team members.  In theory, this concept both: (i) Makes sense, and (ii) Seems desirable.  Unfortunately, applying this in practice is often easier said than done.
Despite people-data being a source of interest for several business and academic disciplines, the field of human measurement science has traditionally been littered with several theoretical concepts which, despite academic best efforts, have failed to describe human characteristics in a way that enable the prediction of "goodness-of-fit" amongst team members with a relatively high degree of success.
Fortunately, there are several "alternative" assessments (such as the Value Orientations) available that present feedback that is accurate, astute, and easily interpretable.  The Value Orientations assessment, as an example, comprises of 32 questions that present a candidate with the opportunity to document their currently held worldviews by indicating their relative preference(s) in several content domains.  Within minutes of completing the assessment, an electronically generated report can be downloaded by the assessment practitioner which, amongst others, visually depicts the most noticeable (statistically significant) preferred and rejected values of the candidate.
Despite several processes being possible, FHBC opts to take the approach that enables the relevant practitioner to discuss these results with the candidate before the interpretation is presented to the relevant parties involved in the selection process.  Following this discussion, the results of the candidate, and the result(s) of the current team member(s), are presented.  During this presentation it becomes possible to identify areas in which the candidate and the team may likely experience synergy and also, areas where the candidate and the team may likely experience increased tension.
Subsequent to the presentation, the hiring party is able to (more accurately) deduce whether the candidate may likely experience a good fit within the team or whether it urges the panel to evaluate additional factors before considering employment.
Whilst it is important to note that team composition may not be the only relevant factor to consider when supporting peak team performance, there is significant qualitative and quantitative data to support the view that peak team (and general business) performance is near impossible in contexts where team members are not engaged with one another, and / or the required tasks at hand.  As such, whilst several other factors should be considered when creating high-performance teams, it is the view of the author that team composition should be of primal importance.
Should you wish to evaluate your current team to identify possible barriers to effective performance, and / or include this process as part of future recruitment and selection processes, please contact Jeshua Crous (Registered Psychometrist) at jeshua@fhbc.co.za to arrange a discussion on the value that Psychometric assessments could play in your organization.