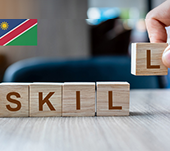 Imposition of vocational education and training levy on employers
The Vocational Education and Training (VET) Levy was proposed and brought into legislation to aid the country's need for a better quality and quantity skills development, aiding the National Training Authority (NTA) to address training opportunities.  The implementation of the Act was reported in the Government Gazette number 5395 of 27 January 2014, commencing on 1 April 2014, yet in the Government Gazette number 7498 of 1 April 2021, the act was imposed on qualifying employers.
An Employer that complies with the eligibility criteria of the Employer Training Grant, must submit their claims no later than 31 days after the financial year of the NTA, i.e., 1 May.
up to 50% of levies paid can be claimed on condition that employers submit evidence of training and payment thereof.
ETG claims must meet the training criteria:

All level 1 – 5 VET courses on National Qualifications Framework (NQF), accredited by the Namibian Qualifications Authority (NQA)
Training courses not accredited by the NQA, but related to VET courses offered by accredited and registered training providers (including short courses)

Eligible costs included (but not limited to) items such as:
The training facilitator
Materials used
Assessment and certification
Subsistence and travelling
The burden of proof that needs to be submitted with claims include items such as:

Signed attendance register
All invoices of costs incurred and payment proof
Please remember that if the applications for claims are not submitted by the deadline, the claims are forfeited.
Who should register for VET Levy:
All employers with an annual payroll of N$1,000,000 or more
Employer exclusions (including but not limited to the State, Regional councils, Local authorities, Public educational institutions, Faith-based organisations, Charitable organisations, Private education and training institutions, Diplomatic and consular missions and offices of representatives of other states, Donor organisations, Non-profit organisations)
How to register:
Employers are encouraged to register online at the following website:  http://veterp.nta.com.na/
To register you will need the following information:
Name of entity (Company, Close Corporation, etc.);
Type of business;
Registration number, Tax number and Social Security number of entity;
Physical & Postal Address, Contact Particulars such as Telephone, Fax and E-mail details of the Company;
Number and Gender of Employees;
Full Banking Details; and
Estimated Annual Payroll for Current Financial Year.
If the online registration process is not available, a registration form can be downloaded and submitted via email to levy@nta.com.na
How is VET Levy calculated?
Levy is an employer contribution
Levy is calculated at 1% of annual payroll for the employer
Annual payroll constitutes the total remuneration paid or payable by an employer to employees during any financial year and includes all money or in kind owing to an employee arising from employment.
When and how should the Levy be paid? 
Monthly return to be submitted and paid before / on the 20th of each month (example: April 2021 return should be paid and submitted by 20 May 2021)
Monthly return to be accompanied by proof of payment and evidence of monthly payroll
Monthly return can be submitted on the NTA (National Training Authority) website
Monthly payment should be done either by electronic funds transfer (EFT) or bank deposit
Banking details can be found on the NTA's official website, please follow the link below.
https://www.nta.com.na/vet-levy/
Non-compliance
If an employer is registered and fails to submit and pay the monthly returns, the NTA may make a reasonable estimate based on the original registration information and issue the employer with an assessment and impose penalties of N$250 on every late monthly return.
Please feel free to contact Annemarie Edwards for any assistance at annemarie@fhbcnam.com or admin@fhbcnam.com
Source Reference:
NTA official website; https://www.nta.com.na/vet-levy/
Government Gazette number 5395 published 27/01/2014
Government Gazette number 7498 published 01/04/2021