Op 2 Oktober het ons 'n Spanbou by Open Door Fashion Cafe te Malanstraat, Wellington, gehad.  Die eerste oefening was "Look who's coming for coffee".  Elke persoon moes 'n kollega met 'n soortgelyke prentjie op 'n ander kleur bladjie vind.  Daardie twee kollegas kon dan in die koffiery gaan staan en mekaar leer ken. Daar was ook heerlike muffins waaraan ons kon smul.  Die volgende oefening was "Refleksie oor lockdown" waartydens ons met die "step to the line" oefening kon besef dat almal maar tot 'n mate deur 'n uitdagende tyd gedurende lockdown is.  Dit help om bietjie begrip en insig tot mekaar se omstandighede te kry.  Ons is gemotiveerd en opgewonde vir die res van die jaar, terwyl ons baie dankbaar is dat ons geleentheid het om ons kliënte tot diens te wees.

Basedag was 16 Oktober.  Die Direkteure se spanne het vir hulle met geskenke en briefies bederf.  Ons is dankbaar teenoor ons Direkteure wat met soveel toewyding ons maatskappy stuur.  Dankie vir die neem van al die moeilike besluite.  Dankie vir die geleenthede wat aan elke werknemer gegun word om te ontwikkel en hulle passie uit te leef.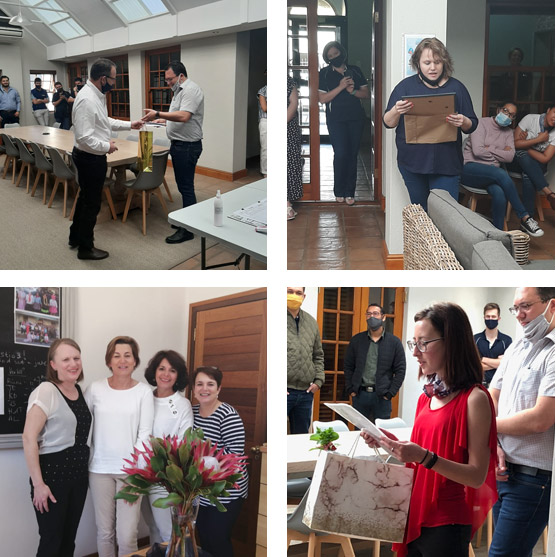 Tydens
lockdown
was die "snacks" en kos by die huis vir party 'n groot versoeking.  Nou is die somer om die draai en die klere het gekrimp.  Behalwe om net ontslae te raak van die ekstra
lockdown
gewiggies, voor 'n wel verdiende Desembervakansie, wil ons kollegas aanmoedig om gesond te leef.  Vandaar het ons "The Biggest Loser" kompetisie geïmplementeer.  Kollegas weeg in, eet gesond en persoonlike
BMI
word gemonitor.  Die wenner sal by die Jaareindfunksie aangekondig word.
Elzan Rust (Rekeningkundige Bestuurder) en Neusa Costa (Ontvangs en Administratiewe Assistent by die Paarl kantoor) het op 30 Oktober diens verlaat.  Ons beste wense vergesel hulle.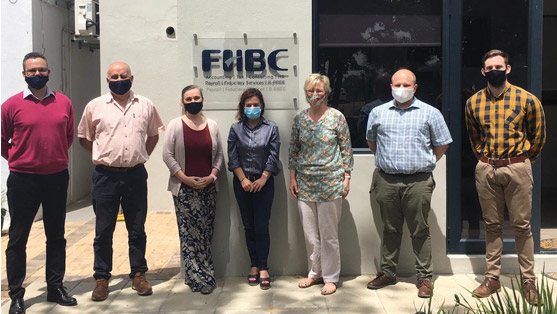 Einde November neem ons ongelukkig ook afskeid van Carmen Samuels (Rekenmeester) en Dionel Bezuidenhout (B-BBEE Administratiewe beampte).  Alle voorspoed en sukses word hulle ook toegewens.
Die Jaareindfunksie is 27 November en 'n lekker vooruitsig.  Dankie aan die sosiale komitee vir die reëlings daarvan.