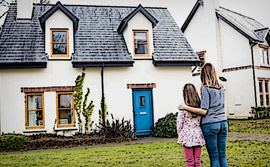 Ons ontvang gereeld navrae oor wat die verantwoordelikhede van die vruggebruiker en die blooteienaar onderskeidelik is.
Kom ons maak net eers seker dat daar nie verwarring oor wie die vruggebruiker en wie die blooteienaar is nie.
'n Tipiese bemaking sal soos volg lyk:
"Ek bemaak my onroerende eiendom geleë te Kusweg aan my seun, Piet, en my dogter, Santjie, in gelyke dele.  Hierdie bemaking is onderhewig aan die uitdruklike voorwaarde dat my eggenote Bettie, 'n lewenslange vruggebruik oor die eiendom sal geniet."
In hierdie voorbeeld is die kinders, Piet en Santjie, dan die blooteienaars en die eggenote, Bettie, die vruggebruikster.  Dit beteken dan ook dat na Bettie lewenslank geregtig sal wees om die eiendom gratis te bewoon en ná haar afsterwe sal die vruggebruik gekanselleer word en verkry die kinders dan volle eiendomsreg.
Daar onstaan baie dispute oor wat die vruggebruiker se verantwoordelikhede is en waarvoor die blooteienaar dan verantwoordelik is.
Kortliks is die vruggebruiker verantwoordelik vir die normale instandhouding van die eiendom, maar is nie verplig om toe te sien tot enige herstelwerk of verbeteringe wat die gevolg is van normale slytasie nie.  Verder is die vruggebruiker verantwoordelik vir die maandelikse eiendomsbelasting en dienste, maar nie die versekering van die eiendom nie.
Dit sou egter in die beste belang van die blooteienaars wees om die eiendom verseker te hou, aangesien die eiendom uiteindelik hulle bate en gevolglike verlies sou wees in die geval van brand of skade.
Teen hierdie agtergrond is dit dus ook belangrik om seker te maak dat die langslewende of enige ander persoon aan wie die vruggebruik verleen word, wel by magte is om dit finansieël te kan bekostig om die verantwoordelikhede hierbo gemeld te kan aanspreek.
Indien u enige navrae het, kontak gerus vir Marius Vorster by mvorster@fhbc.co.za