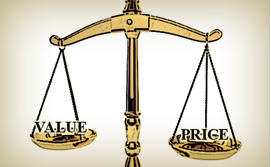 Bates in 'n boedel, beide roerende en onroerende eiendom, moet gewaardeer word teen die huidige markwaarde ten tyde van die oorledene se afsterwe.
Die bates moet teen die billike markwaarde in die Eerste en Finale Likwidasie- en Distribusierekening (staat van bates en laste) ingesluit word.
Dit is uiters belangrik dat boedelbates teen 'n realistiese markwaarde in die Likwidasierekening opgeneem word, hoofsaaklik omdat die totale waarde van die boedelbates 'n direkte invloed het op die kostes wat deur die eksekuteur gehef word en ook op die kostes wat op die oordrag van enige onroerende eiendomme aan die oordragprokureur betaalbaar sal wees.
As die boedel nie vir boedelbelasting aanspreeklik is nie, kan die bates in die boedel wel op 'n minder formele wyse gewaardeer word en is dit dus nie nodig om die waardasies deur 'n geswore waardeerder te laat doen nie.
Hou egter in gedagte dat die Meester van die Hoë Hof op enige stadium by magte is om amptelike bewysstukke ten opsigte van die waarde van enige bates te vereis en dan moet die Eksekuteur by magte wees om die waarde waarteen die bates in die Likwidasierekening ingesluit was, te kan bewys.
Indien die boedel vir boedelbelasting aanspreeklik is, of indien daar minderjarige persone is, wat kwalifiseer as erfgename, sal die Meester daarop aandring dat die bates behoorlik en deur 'n geswore waardeerder gewaardeer word.
Dit kan egter ook gebeur dat daar geskille tussen erfgename ontstaan, of dat die erfgename nie tot 'n vergelyk kan kom met betrekking tot die verdeling van sekere boedelbates nie.  In hierdie omstandighede sal ons ook aanbeveel dat 'n geswore waardeerder die items waaroor daar dispute bestaan, waardeer.
Indien u enige navrae het, kontak gerus vir Marius Vorster op mvorster@fhbc.co.za