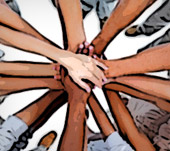 Due to previous injustice, discriminatory laws and practices, inequity exists in the South African workforce and income of workers.
The Employment Equity Act No. 55 Of 1998 has the following objectives:
Promoting equal opportunity and fair treatment in employment through the elimination of unfair discrimination; and implementing affirmative action measures to redress the disadvantages in employment experienced by designated groups, to ensure their equitable representation in all occupational levels in the workforce.
All designated employers must submit their annual employment equity report.  A designated employer is defined as:
An employer who employs more than 50 people,
An employer who employs less than 50 people but has an annual turnover that is equal or above in terms of Schedule 4 of the Act, namely:
| | | |
| --- | --- | --- |
| | Sector | Total annual turnover |
| | Agriculture | R6.0m |
| | Mining and Quarrying | R22,50m |
| | Manufacturing | R30,00m |
| | Electricity, Gas and Water | R30,00m |
| | Construction | R15,00m |
| | Retail and Motor Trade and Repair Services | R45,00m |
| | Wholesale Trade, Commercial Agents and Allied Services | R75,00m |
| | Catering, Accommodation and other Trade | R15,00m |
| | Transport, Storage and Communications | R30,00m |
| | Finance and Business Services | R30,00m |
| | Community, Special and Personal Services | R15,00m |
| | | |
The electronic submission of the employment equity report is open from 1 October 2017 until 15 January 2018.
Non-compliance to the EE Act may attract fines which start at R1,5 million or 2% of the Employer's turnover.
Employers can register on the EE System on https://ee.labour.gov.za to submit the annual Employment Equity Report online.  The EE system is a tool to support the objectives of the Employment Equity Act.
SAGE VIP offers an Employment Equity Module that you can add to the existing core functions, which provides you with fundamental guidelines on all aspects of Employment Equity required by the latest South African legislation. It gives you step-by-step procedures for implementing all the components of Employment Equity in your company, developing numerical goals and targets and printing all Statutory Equity Reports (EEA2 and EEA4) for the Department of Labour.
At FHBC we can assist with both compiling an Employment Equity Plan and completing the reports which must be submitted to the Department of Labour through the online EE system.  If your company utilises the SAGE VIP program for salaries, the process can be less time consuming due to the system having a lot of the required information available already.
If you need assistance with reporting, please contact our office:  Anél Crous (anelv@fhbc.co.za) for the planning, implementing and reporting phases.  All enquiries regarding SAGE VIP and Employment Equity can be directed to Louise-Anne Truter (louise@fhbc.co.za).