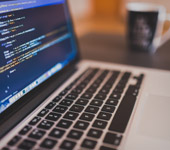 Lately the amount of computer hacking and ransomware has increased and more often we are informed that our clients fell into this trap.  The most common at the moment is where these cyber thieves send you a seemingly stand-up email and once you click on it, they hack your servers and request money from you to lift the encryption they enabled on your system.  To help prevent this we will try to give you a few pointers on what we recommend you should have in place and look out for:
1.
Make sure you have an Antivirus installed
An up to date licenced antivirus is extremely important on any computer and system.  It helps to protect you from viruses which comes in all forms, like plugging a USB flash drive into your computer from a client or friend, not knowing where it has been.  It also secures your online transactions.

A few points to remember:

It is good practise to scan any device that is plugged into your computer
Make sure the antivirus is always up to date
Make a note of your renewal and make sure you comply

2.
Backup your data
Backing up your data should be as important to any business or person as their bank balance.  In this day and age everything we do for our business is mostly computer based.  Think of your client information and emails, what would the result be if your computer was stolen today or your system was held for ransom?  Are you willing to lose all your information and data?

To back up your data every day or even once a week is imperative for any business.  It is however important not to back up your data on your server or computer.  If you are held for ransom, they will have that back up under encryption as well, so an external solution needs to be considered.  It can be as rudimentary as an external hard drive or as advanced as a cloud storage solution.  Talk to your IT specialist or provider for options.

3.
Password protection
By locking your computer with a password can help prevent prying eyes on personal information.  The more important function is to prevent hacking and theft.  To do this you need a strong password for your computer and server.  A strong password contains letters, numbers and symbols and should be at least six characters long.
4.
Do not open unsolicited emails and attachments
We receive hundreds of emails every day, but be aware of emails that you do not know the origin from and most importantly – DO NOT OPEN THE ATTACHMENTS.  By clicking on the attachment, you open yourself up to possible ransom as this is the route the Cyber thieves take to enter your system.  Once these thieves have encrypted your server or computer, contact your IT professional immediately for further assistance.  If you are unsure of the origin of the email and you wish to know the contents, rather go to the website directly to determine the origin or google the name to see if it is a scam.
We trust these few pointers will encourage you to ensure that your in-house IT policy regarding the safekeeping of data is up to date.